Image:John Dee.jpg
From Thelemapedia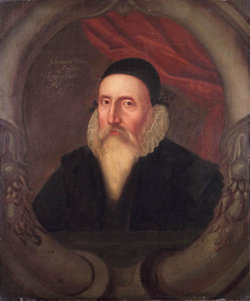 John Dee photo from wikipedia
A sixteenth century portrait of John Dee, artist unknown. According to Charlotte Fell Smith, this portrait was painted when Dee was 67. It belonged to his grandson Rowland Dee and later to Elias Ashmole, who left it to Oxford University.
Image history
Legend: (cur) = this is the current image, (del) = delete this old version, (rev) = revert to this old version.
Click on date to see image uploaded on that date.
Image links
The following pages link to this image: