Astaroth
From Thelemapedia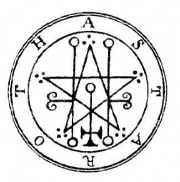 Astaroth
(also
Ashtaroth
,
Astarot
, and
Asteroth
) is a Grand Duke of
Hell
; his main assistants are four
demons
called
Aamon
,
Pruslas
,
Barbatos
and
Rashaverak
. In art, in the
Dictionnaire Infernal
, Astaroth is depicted as a nude man with dragon-like wings, hands and feet, a second pair of feathered wings after the main, wearing a crown, holding a serpent in one hand, and riding a wolf or dog. According to Sebastian Michaelis he is a demon of the First Hierarchy, who seduces by means of laziness and vanity, and his adversary is St. Bartholomew, who can protect against him for he has resisted Astaroth's temptations. To others, he teaches mathematical sciences and handicrafts, can make men invisible and lead them to hidden treasures, and answers every question formulated to him.
According to Francis Barrett, Astaroth is the prince of accusers and inquisitors. According to some demonologists of the 16th century, August is the month during which this demon's attacks against humans are stronger. His name seems to come from the goddess 'Ashtart/Astarte which was rendered in the Latin Vulgate translation of the Bible as Astharthe (singular) and Astharoth (plural), that last form rendered in the King James Version of the Bible as Ashtaroth. It seems this plural form was taken either from the Latin or from some translation or other by those who did not know it was a plural form nor knew that it referred to a goddess, seeing it only as a name applied to some god other than God and therefore the name of a devil.
See also
References
Wikipedia (2005). Astaroth (http://en.wikipedia.org/wiki/Astaroth). Retrieved Nov 19, 2005