Leah Hirsig
From Thelemapedia
This article is incomplete.
You can help Thelemapedia
by adding to it (http://www.thelemapedia.org/index.php?title=Leah_Hirsig&action=edit).
Lea (Leah) Hirsig was born into a family of nine siblings on April 9th, 1883 in Switzerland. However, they moved to America when she was a child, and she grew up in New York. In 1919, after seeking out Aleister Crowley due to her interest in the occult, she was consecrated as his Scarlet Woman, taking the name Alostrael, "the womb (or grail) of God."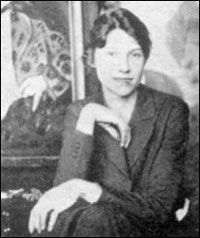 She helped found the
Abbey of Thelema
with Crowley in Cefalù, Italy. Of her time there, Frater Hippokleides (2003) writes:
At the Abbey, Hirsig was instrumental in guiding Crowley, the Prophet of the New Aeon, to a deeper understanding of the Law of Thelema. At a time of despair, Crowley wrote, "What really pulled me from the pit was the courage, wisdom, understanding and divine enlightenment of the Ape herself. Over and over again, she smote into my soul that I must understand the way of the gods… We must not look to the dead past, or gamble with the unformed future; we must live wholly in the present, wholly absorbed in the Great Work, 'unassuaged of purpose, delivered from the lust of result'. Only so could will be pure and perfect." Hirsig's role as Crowley's initiatrix reached a pinnacle in the spring of 1921 when she presided over his attainment of the grade of Ipsissimus, the only witness to the event.
Hersig spent much of her later years helping to promulgate the Law of Thelema and as a schoolteacher in America. She died in 1975 in Meiringen, Switzerland.
External Links
Leah Hirsig: Magical Record (http://www.lashtal.com/nuke/index.php?module=subjects&func=viewpage&pageid=87) The Magical Record of The Scarlet Woman Alostrael 31-666-31 Leah Hirsig From January 15, 1924 To December 27, 1924 e.v.
References
Frater Hippokleides. (2003). Leah Hirsig (http://www.hermetic.com/sabazius/hirsig.htm).